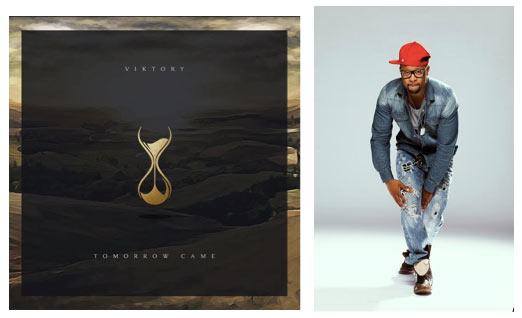 Los Angeles, Calif. – Billboard charting hip hop artist Viktory announces the release of his highly anticipated new project Tomorrow Came, to be releaseed on  June 17, 2016 on all digital platforms.
Self-produced and recorded in (Huntsville, AL), the speaker/author/ordained ministry and multi-faceted artist packed 10 hard-hitting tracks that will compel, encourage and empower.
"Tomorrow Came is about resilience, unity and the undying will to endure," explains the Stellar nominated rapper. "Many of us are waiting for God to 'do it', when he's already sent the tools required for us to produce results for ourselves. We look into the future for an outcome that God has already delivered. My aim is to encourage and empower everyone to become everything God intended."
Known for his ear-catching collaborations, having previously joined forces with Andy Mineo, Marvin Winans Jr., Byron Cage among others, he will be featuring  Erica Campbell of Grammy award-winning group Mary Mary on this upcoming release. Additionally, fans will get a taste of 'Tomorrow Came' through the first single, "Lunch Tables," available on iTunes and Amazon starting (April 16th) that addresses the racial and cultural divide in America.
"'Lunch Tables' is about the racial and cultural divide in America," explains Viktory. "We are a great country behaving like 7th graders in the lunchroom. We isolate people with different ideas, background, and skin color from one another. The answers to the issues that plague America today are, ironically, at the 'Lunch Table'. Jesus ate with those that disagreed with him and extended open arms to his enemies. Real communication, sharing and a drive to truly understand cultural differences is where change in our nation will begin. My new album deals with the subjects and more head on."
Viktory shot the "Lunch Tables" music video in Huntsville, AL and worked with director Will Thomas. The powerful video can be seen on his YouTube channel.
In conjunction with the album release, the award-winning rapper will embark on a nationwide tour entitled "Tomorrow is Now." Dates will be announced in the weeks to come.
Over the course of his career, Viktory has garnered over 5 million streams worldwide, 200,000 downloads, was nominated for a Stellar Award for Hip Hop Rap Album of the Year for his (Birth of a Legacy), and has had two Top 20 Billboard Albums, multiple Top 5 hits on iTunes and more.
For more information on Viktory and Tomorrow Came, please visit http://www.r4ever.com.
News Source: JFH News